Chat to her. How is she? What does she want to do? When? What doesn't she want to do?
What Is happening?

Together, identify elements of the attack:
Hacking
Distorted images or videos
False profiles
Insults or verbal attack
Defamation
Harassment
Threats
Dissemination of intimate photos
Extortion
Censorship
Remind your friend that it is not her fault and she is not alone.
How can you help?

Listen without judgment
Screenshot and take notes about the attacks
Help her decide what action to take
Report the abuse
Follow the attacker's trail
Create a support group for your friend
Manage the targeted account for her
Send public and/or private messages of support
Accompany your friend and confront online gender-based violence with small steps that help her feel safe again.
Keep a record of the attacks
Take screenshots of the messages, images and profile information of the attacker. The evidence may disappear quickly!
If your friend keeps you updated on what is happening, you can help by keeping a log.
Keep your notes and images safe.
You can help record attacks, especially when they are public and there are many attackers involved
Accompany her

To make sure you don't lose touch with her, communicate through a safe or new account that is not under attack.
If it makes her feel safer, your friend can share her geolocation with you to accompany her remotely while she is in transit.
Investigate!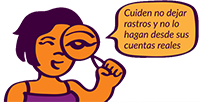 Search for your friend online and check what data, photos or videos are published about them. Is there anything they want to remove? Do they want to change their privacy settings.
Search the internet for more information about the attacker/s.
Make sure not to leave a trail; log out of your accounts.
Report
Social networks have different ways of reporting abuse.
Sometimes you must make the report from the profile of the person who is being attacked.
Look for the correct forms and recommendations to report and remember to give context.
Block
Blocking prevents the attacker from seeing your friend's profile and sending more messages or friend requests.
Some people prefer not to block to be able to keep an eye on the attacker's activity.
If your friend chooses not to block, they may still want to increase the privacy of their profile.
Respond together
Create something! Write a blog or make a video about what is happening.
If you are planning a campaign to make the attacks visible, increase your own security.
Take precautions because if you publicise the attacker, the social network could take action against you or you could be accused of defamation. Preserve evidence!
Ignore it!
Often, attackers are trying to get a reaction; what if your friend denies them what they want?
If you are planning a campaign to make the attacks visible, increase your own security.
Explore together!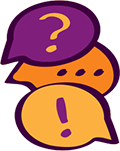 The answers to what she is facing could be in:
Social networks
Digital security measures
A group response
Drawing public attention to the violence
Telling family or friends
Reporting to authorities or platforms
Digital Safety
Together, check the privacy of your friend's networks.
Go through follower or friends lists. Are there possible accomplices sharing info with the attacker? She might want to hide her friends' list from public view.
To better protect her accounts, she can activate two-step verification.
She should review and close account sessions on devices that she does not recognise.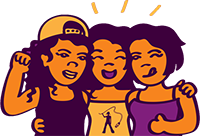 Remember:
Your friend may be experiencing fear, confusion, uncertainty ... Support her!

There are no correct answers

Do not judge your friend's decisions.
Do you have other friends who have faced a similar situation? Check in with them!