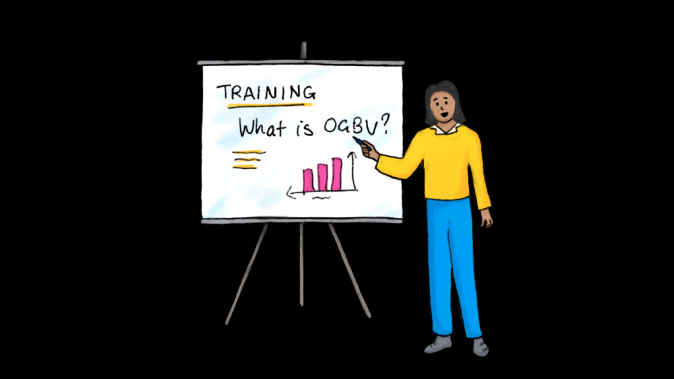 Image from the GLITCH Toolkit on online gender-based violence.
Recent research highlighted that Black women are 84% more likely to be mentioned in abusive or problematic tweets than white women; that 83% of trans people have indirectly experienced online abuse and that 45% of LGBT+ people have witnessed homophobic, transphobic or bi-phobic abuse online.
– Glitch Report: The Ripple Effect: COVID-19 and the Epidemic of Online Abuse
Glitch is a UK-based charity, founded by activist Seyi Akiwowo, doing work within the digital realm, specifically focusing on online gender-based violence (OGBV) via an intersectional lens, advocating for policy change within technology companies and governments and education individuals and organisations on digital safety. It's been three years of growth for the organisation, gaining international acclaim through their work, collaborating with other collectives to #StandUpToHate, teaching digital self-care and documenting the abuse of Black women online in their recent report
The Ripple Effect: COVID-19 and the Epidemic of Online Abuse
, quoted above. Through the Take Back the Tech grant in 2020 they were able to expand on the work they began after receiving a first TBTT grant in 2018. They published their
first toolkit
via the grant and this time they created a
2.0 version
and ran 'train the trainer' workshops.
This toolkit was compiled to specifically support Black women and those who want to help end OGBV against Black women without the knowledge of where and how to get started. The toolkit is extremely easy to use, containing instructions, guidance on hosting engaging conversations as well as questions and prompt cards. This work does so much for strengthening the voices of Black women and non-binary individuals, empowering them to challenge the abuse of power that comes with OGBV, specifically around tech accountability and lobbying government. These training workshops also facilitated opportunities for communities all over the UK and Europe to connect and network.
The main objectives of Glitch's project included empowering at least 50 women in the African Diaspora (including at least 10% from lesbian, bisexual and transgender communities) within engagements around OGBV. Glitch ran 3 workshops, reaching over 170 individuals, using their new toolkit to give participants skills around digital resiliency and being more confident online. Participants had incredibly positive feedback about the training:
I found it really useful, a great balance of information but also getting time to practice how to actually hold conversations so that I feel more confident in hosting a conversation. I also really like outlining the rules of the chat both in the email before and at the start of the conversation, and suggesting people can write their name phonetically as well as everyone's pronouns, which is so important to help us all to feel comfortable.
The training and the toolkit has opened a whole new perspective for me. Having a theoretical framework to a societal problem help us in understanding how to shape our answers.

I really loved this workshop. It allowed space for participants to really evaluate and understand how supporting online is just as crucial, especially to Black women and non-binary persons who experience gender-based violence. It was also super motivating and encouraging to see a physical toolkit. By having this toolkit, it is easy to show employers the need for such safer spaces, it is easy to show people we report to that such violence is real and that it happens a lot. As well as being able to show the effects of these negative experiences is validating. Just having this toolkit is a support system in itself.
By the end of the trainings the participants felt confident that they would be able to use the toolkit to educate others and have more conversations about challenging OGBV, holding users accountable for the abuse that occurs on platforms and allow them to feel more assured in online settings. On a systemic level, Glitch is certain that they have mobilised a network of digital citizens that will hold tech companies and governments accountable and the ability to adapt this work to various contexts. The toolkit has also been translated into Portuguese due to a need for resources within this community for Black women engaged in Black Lives Matter protests. Glitch partnered with
Minas Programam
, "an initiative created in 2015 to challenge the gender and race stereotypes that influence our relationship with the areas of science, technology and computing". They promote programming opportunities with a priority on Black and Indigenous girls' and women's learning. Collaborating with the organisation allowed the toolkit to be shared with 70 other Black Portuguese-speaking organisations.
In their evaluation Minas Programam said:
This toolkit is relevant for our context because incidents of OGBV against Black Brazilian women have become more and more common. Different local organisations (such as Blogueiras Negras, Coding Rights, Rede de Ciberativistas Negras) have been doing research with users and activists who have been victims of OGBV - and the perception that Black Brazilian women receive attacks more frequently than women from other races is widespread. In my experience at Minas Programam, more and more young girls of color who are interested in technology have to deal with or are concerned about being victims of OGBV. Over the past two years, girls and young women have reached out to our organisation asking for advice on how to prevent and react to OGBV, how to protect themselves and how to report. When we reached out to Glitch, we were specifically thinking about providing useful information to the folks who've reached out to us in the past and this resource is a great way to do that.
The Glitch team was proud of the work they were able to do, especially within a tight deadline during two pandemics, Black Lives Matter and COVID-19. They worked with top UK law firm Schillings, allowing them to update the 'Know Your rights' sections to give women and non-binary people an intersectional understanding of digital and human rights. Their work this year emphasised those who see OGBV happening knowing what to do – online active bystander interventions that ensure women and non-binary individuals feel supported and protected, able to enjoy the online space safely.
Together with the new toolkit, Glitch ran their Autumn-Winter programme, covering the basics of OGBV awareness, addressing digital citizenship, self-care and self-defence for womxn and non-binary people. Their programme extended to community leaders as well, upskilling those who need training on having the most positive online experience. Seyi's work was featured in
Marie Claire
, spreading awareness about the work that Glitch is doing as well as in
conversation with Jameela Jamil
, discussing what they've learnt from mistakes they made online and how to be more trauma-informed rather than led by trauma. Seyi's phenomenal work made the cover of
Wired
, expanding the overall reach of the work the organisation does and opening this conversation up to more communities.
We haven't yet had that kind of public conversation around online etiquette and behaviours online.  There's a real assumption that because we've grown up with the internet, like having Windows 95 at school, means that we know how to navigate ourselves online in a safe way and in a respectful way. - Seyi Okiwowo
This is vital work. Work that ensures that we don't assume that people know how to protect themselves, how to report abuse they experience and do what they can to keep themselves and their communities safe online. Work that prioritises Black women and non-binary people, that believes the harm they face and arms them with strategies they need to participate actively in digital spaces. This is work that edges us closer and closer to a feminist internet.