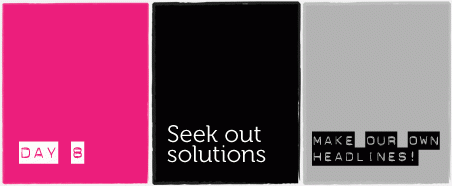 Only a handful of corporations and conglomerates own most of the world's media, which puts into question how much editors and journalists are able to juggle the responsibility of serving the general public while increasing sales and protecting the interests of the head company. The ability to influence one's local news editor to include coverage and analysis relevant in your community can also get further removed if ownership, policy and editorial decisions are made higher-up in the company ladder. 
Women's rights defenders' hard work has put violence against women in the headlines around the world every November 25th, on the International Day on the Elimination of Violence Against Women. During that time, statistics are sputtered, politicians make commitments, and legal institutions and women's shelters are flooded with reports and women seeking support. Frequently the focus of such coverage is on women as victims of violence, and how overwhelmingly unstoppable violence against women is.
If women's rights defenders owned the press, would the coverage change? What would make the headlines? What slant would an article take? All over the world there are creative solutions to ending violence. There are innovative support systems, new laws, and women telling stories of healing and transformation. There are people all over the world questioning power structures that legitimitise violence and offering alternatives.
Put the spotlight on solution and transformation! Shift the focus and report on solutions and signs of progress in the fight to end violence and help make the headlines – now and throughout the year.
1. Find out about support and solutions to end violence against women
What is being done to end violence in your community, or what are you doing?
Do a search online for solutions, on a grand scale or a micro level, in your own country or abroad.  These might include:

New legislation
Grassroot, community response
Partnerships between women's organisations and goverment, social services or companies
Special funds
Creative outreach by shelters or support services

Do a special search to see if information and communications technology is involved and how
If you use Twitter, tweet the findings and tag them #takebackthetech
2. Let newsmakers know – again and again
Write an email to your local news show or newspaper editor to let them know you want to learn about progress and solutions to violence against women, and share some of the information you found.
When you send your email, include a blind carbon copy (BCC) to 1month@followupthen.com, a free reminder service which will send you a follow-up email in the time specified (or try 1hour, 3days, 2weeks). If you've received no response after that time, you can re-send your email – and insist that solutions to violence against women is news year-round, not just on November 25th. (It's also a good way to remember to follow up with friends about calls for solidarity, for example, a reminder to take their monthly donation of clothes or diapers to the local shelter. :) )
3. Make your own headlines – or help make ours!
If you have a twitter account, and tweeted the links to solutions you found using the  #takebackthetech tag, you've already made headlines! 
See the results by visiting @takebackthetech's virtual newspaper made using paper.li. 
Paper.li is a free online service available in several languages that unpacks the links you tweet (as well as those of the people you follow) and features them as newspaper articles, videos, and photos.  It's an easy way to catch up on what the people you follow are saying.
Make a virtual newspaper for your organisation, or for the issues you want to follow in twitter. All you have to do is sign up for the service and put in your @twitter account, tag or list to visualise your paper.
We are all part of the solution. Ending violence against women is possible. Let's make that the headline!