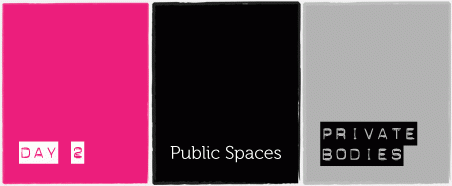 What is private in a public space? How do we keep it private? You're walking down the street and someone snaps a picture of you. You're having a private moment in the park and someone takes a video of you. You're waiting at the bus stop and someone grabs you.
Violation of our right to privacy makes public spaces unsafe. It takes away our capacity to make decisions about how we want to occupy a space, and who we want to share it with. When women's bodies are seen as "public property", it allows others to disregard our right to self-determination. It results in discrimination, restrictions on what we can do, where we can go and violence.
We need to stake our claim to public participation. And demand for spaces to be built with our right to privacy in mind. Pick the space you want to change and announce your right to privacy in public!
TAKE ACTION
MAKE YOUR MARK
Pick a public space where you feel like your privacy is threatened. Leave a message in that space using chalk or signs or whatever is appropriate. You might choose your favorite comment from
yesterday's Twitter and Cryptocat conversations
or take inspiration from
Hollaback
stories. Then post a pic on a photo-sharing site with the tag
#takebackthetech
or
upload it here
. You can also tell us about your action by commenting on this page.
SHARE RESOURCES
"Built environment" refers to physical public spaces, primarily architecture, infrastructure and urban planning. For example,
UN-HABITAT
is working with local governments in Eastern Africa to design public spaces and transport that decrease isolation and increase safe mobility for women and girls. If you know of a great resource on gender and the built environment, share it on your blog or
ours
, your social media and/or at
ideas@takebackthetech.net
. Others can use it to inspire their communities to make public spaces safe and welcoming for women. Be sure to use
#takebackthetech
.
BUILD KNOWLEDGE
To better understand what it's like when everyone feels entitled to your body and no space feels safe,
learn about life
for women in the Democratic Republic of the Congo and Central African Republic as well as what agencies like
Women's Initiatives for Gender Justice
and
Isis
are doing to support them. How can rebuilding in conflict zones better include women?
Take back your privacy! Assert your right to participate in public spaces and demand safer spaces.