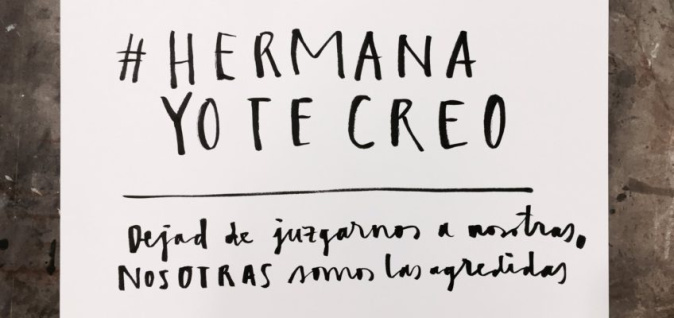 The movements denouncing sexual violence are unstoppable. We noted this in our
previous post
and questions continue to emerge: some focus on the way people are publicly shamed in "escraches"*, others on whether the internet is a legitimate place to denounce violence, and about its characteristics with respect to the over-exposure of both the victims and the aggressors.
In order to follow up on the reflections related to our right to speak, we will delve here into the viewpoints of feminists who critically analyse the way in which we speak out about the violence we experience. And we will talk about how online denunciations can help heal the wounds caused by sexual abuse.
It is also necessary to question whether the ways in which we make our accusations, and the responses we obtain in return, form part of the process of radical transformation that we as feminists seek, or on the contrary, whether they continue to reproduce the traditional mechanisms of blaming and punishing historically questioned by those of us who believe in a path more in line with
restorative justice
than with the punishment and isolation of the aggressor.
In this piece we will pull together a chorus of diverse voices to think about the perspective from which we can address the dilemmas sparked by the tidal wave of denunciations from #MeTooPeriodistasMexicanos, #MeToomx,
#Metoo de Costa Rica
, the case of
#YoLesCreoAmorales
in El Salvador, and
#MetooMuni
In Guatemala.
Our intent is to sketch out lines of discussion to more deeply explore this moment in time when we need to balance the power of instantaneous identification of aggressors on social media with the need to validate denunciations and deal with violent people who, despite having been identified, continue to circulate in their spaces of power with total impunity.
In an interview with
Píkara
magazine, Amandine Fulchirone, a researcher with the Guatemalan collective
Actoras de cambio
(Actors of Change), offers us some valuable pointers for engagement in this debate. Based on her experience with community justice procedures in Guatemala, she provides ways to think about sexual violence, and to guide processes seeking justice outside of official channels and above and beyond the demands voiced by people calling through the commercial social media platforms for speedy justice. She argues that it is necessary to turn around the social mechanism that places the guilt, shame and terror on those of us who are denouncing the violence.
"It is very useful for the person who commits the crime to publicly assume the responsibility and shame, because it helps to heal. But how do we do implement this type of sanction? From the legal system? From the community? From our organisations? From where? In any case, simply pointing out the aggressor is not enough. If we merely find individuals to be responsible, which is the logic behind putting people in prison, we ignore what it means in social terms. And what about the supposedly paradigmatic sentences? How effective are they? Do they have a sufficient political impact to transform power relations?"
Justice as a broadening of the debate
Rita Segato, one of the feminist anthropologists with the widest audiences in Latin America, has also been analysing the question of publicly speaking out against violence in our current contexts, contributing ideas to reach a clear position on the best ways to publicly denounce violence and the possible consequences of these accusations.
Referring to punishment by social condemnation, she told the
Paco Urondo agency
: "Can public retaliation, in the face of impunity, be a form of 'popular justice'?" The anthropologist said it was necessary to "be careful with the forms of doing justice that we have learned" based on punishment, which are linked to a patriarchal worldview. The development of feminism, she said, cannot "merely repeat masculine models." In the face of what we have experienced, the answers are not easy: "There is no simple solution, more reflection is necessary because this must be an ongoing process. When the process is closed, that is, when life is closed, inertia sets in," but, on the other hand, "politics with a feminine vision is different, it is movement."
Segato also stressed that "the only way to repair the damaged subjectivities of the victim and the aggressor is politics, because politics involves collectivisation and forging links."
"When we leave subjectivity behind we can see that there is collective damage," and that cannot be healed "if the suffering of others is not recognised." For this reason, she considers the process of debate and the search for justice to be key: "We were captivated by the mercantile idea of institutional justice as a product and that must be undone. We pursued a prison sentence as one thing, and we did not realise that the big thing is the process of broadening the debate."
There are profound questions being asked about accusations of sexual violence and about the processes of justice. We continue to see the same stories infused with pain and anger. How do we build from there?
"We need to come together again as a community to elaborate what we have to elaborate, to politicise what we have to politicise. Naming is one thing, yes, but then we have to work on our memory of sexual violation: What has it left in our lives? What beliefs has it installed in us? How do we relate to each other since then? How do we get back to being right with ourselves? How do we begin to trust again? How do we rebuild our power over ourselves?" asks Fulchirone.
Is there life after "escraches"?
Guillermina Huarte, an Argentine communicator, raises some
key questions
to continue analysing this issue. "Are we in a position to disagree among ourselves on good terms? How are we balancing the actions carried out in terms of what to do about male violence, and above all, with the aggressors? What are our views on the escraches?"
Along with her, we recall that justice is not only sexist, but racist and classist as well. We must also ask who usually goes to prison in our countries. Accordingly, we must reflect that if public denunciation has punitive, stigmatising and excluding consequences, it is up to us to rethink the whole game. Or, if not, take a time-out and think of a better strategy.
Online escraches raise questions about justice. Together with Huarte we ask ourselves: What are people asking for when they call for justice? Is a non-punitive feminist kind of justice possible? These are questions that can clash with expressions of feminism that are co-opted by demands that only call for punishment, harsh sanctions, penalties and jail time.
Both off and on the internet, the increasing visibility of the LGBTIQ+ community's agenda, added to the battle for the recognition of sex work, as well as for the decriminalisation of abortion, confronts the structures of the patriarchal system, and indicates one of the most important points of no return achieved by feminist movements.
At the same time, throughout the region, legislatures are working to indiscriminately stiffen penalties, restrict parole, eliminate offences that do not entail prison time, and increase police force autonomy, among other regressive measures. That is why when the waves of online protests grow exponentially, they force us to review our own concepts of justice and how to provide support for the victims.
Putting the ball in the other court
It is time to put under scrutiny what is behind the escraches or public accusations, especially on social media platforms, especially with cis-heterosexual males who are perpetrators of machista violence. "One of the first doubts that arise is whether the escrache is punitive, or whether some are and others are not. There are multiple viewpoints as to whether to consider it this way or not. 'Punitivist feminism' refers to a line of thought that aims to change/repair/do justice regarding a particular violent incident through a 'penalty' based on the idea that justice equals punishment that involves reparations to the victim," says Huarte.
For her part, Fulchirone argues that "making them also feel shame and fear is essential. In order to get the aggressors to stop violating women, they need to run up against limits. Who sets that limit? Ideally, women should do it. It's easier to do as a community because you quickly find who can support you, what shelters can take you in, who can take action along with you. We have had several such experiences, but the reprisals are very strong. It is the symbolic power acted out. How far are we able to counteract with another voice, with our voice, the patriarchal symbolic power?"
The approach of collective responsibility and action is a way to defend oneself in the face of the responses of the patriarchal system. If justice appears as individual condemnation or punishment for specific acts, we must continue to ask in-depth questions. We must think beyond the individual because sexual violence is part of a web of complex, unequal and violent relationships that can be traced throughout history.
We see, especially, after the public accusations that are spewed over the commercial social media platforms, the lack of support in the face of these issues. Despite this, the victims continue to publicly accuse their aggressors, with the risk this implies because they are exposing themselves in public.
"If feminism today is pushing for a transformation, it has to debate the punishment-oriented approach. Conceiving of a different kind of society, one that is democratic, plural, more just, with all the differences that each political space and each person will have, is an urgent task. Proposing other notions of justice that are not tied to conservative perceptions of the solution to social conflicts is also a task of feminism," stresses Huarte.
However, how do we come up with an idea that goes beyond this? #IDoBelieveYou as an individual or group act of accompaniment is a first step. Feminists have to build networks so that public accusations are not futile.
In order for people who speak out publicly to not be exposed to counterattacks. To tell our stories, to be heard and to be able to choose the possible paths to follow. So that the memory of the internet, beyond our control, does not unilaterally associate us with the memory of the pain denounced. Power relations are transformed at the moment we build our own power, individually and collectively as women and people of diverse identities.
We have the challenge to affirm our truth in our own verbal and technological terms. We must devise the limits that will defend us from aggressors. The path involves a great deal of work in political organisation, which goes far beyond publicly speaking out, beyond the laws and beyond criminal proceedings.
Glossary:
Escrache is a type of direct action demonstration which involves publicly harassing public figures (or others), usually by congregating around their homes, workplaces or other public places, chanting and publicly "shaming" them. (Wikipedia)
The term is used in Argentina, Paraguay, Spain, Uruguay and Venezuela.
Additional reading and other resources: