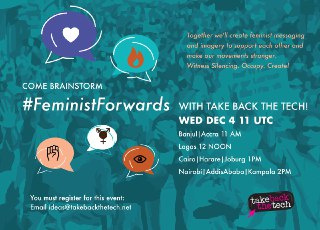 Take Back the Tech! would not be complete without fun tech
play!We invite you to participate in our Feminist Forwards brainstorms in English and Spanish 4 December, and in French on 10 December, to collaboratively dream about the messages we'd like to receive and send in times of protest or celebration.
What sentiments would you like to see pop up on your message feed to fire your commitment?
What would you say to a friend in need? Or that perfect comeback you thought of after the fact?
If you want to put your feminist messages to work on images and gifs but don't know how, we've got your back.
Different campaigners are holding online and on-site content creation trainings using a variety of tools, or you can DIY by watching our
Feminist Forwards TBTT Feminist Learning Circle
.
Not good at memes or have no time to play? No problem! Our messaging will fuel a pool of feminist designers and illustrators from different corners of the world to inspire imagery and gifs that we can connect with, share and transform. #FeministForwards.