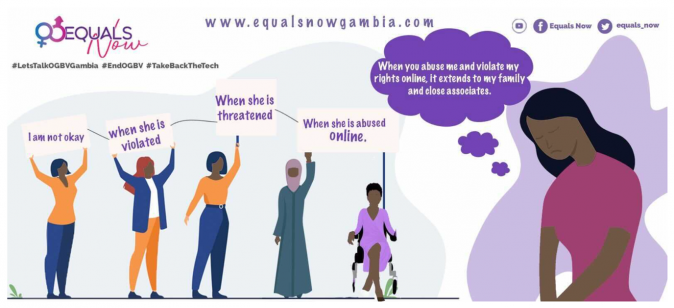 Graphic by Ousainou Jonga, copyright Equals Now.

This is the first organisation in The Gambia to implement a project focused on online gender-based violence (OGBV) and start a national conversation about it. OGBV, particularly in The Gambia, targets feminists and activists who use online advocacy to work toward a better country for women. Having found that this important aspect of gender-based violence was left out of national policies and conversations, Equals Now chose to bring it to the fore with Kickoff. The work has allowed the feminist organisation to fully immerse and ground themselves in a topic that is rarely discussed within the Gambian context and allow more people an understanding of how it is experienced, how lives are negatively affected and what collaboration can do for the battle against this violence. 
The Equals Now Kickoff project had 3 main objectives for this ground-breaking work. The first was providing a platform for women who have experienced OGBV. They created a five-episode YouTube docu-series archiving the experiences of six Gambian women who had faced violence online. The six women interviewed for the docu-series production include activists/feminists, a victim of the Jammeh regime, 2 victims of Melville Robertson Roberts, and an active politician who is currently the Mayor of Banjul. For the first time, these women had an opportunity to speak on the violence they had experienced and how it had affected their lives. Each of the episodes took on a different element of OGBV:
Episode 1: Cyber Harassment of Activists in The Gambia 
Episode 2: Cyber Harassment of a Victim of the Jammeh Regime 
Episode 3: Online Abuse of First Female Mayor in The Gambia 
Episode 4: Misquotation & Online Abuse of a Gambian Journalist 
Episode 5: Being a Feminist & Activist Online in The Gambia 
The second was initiating and implementing programmes that place a larger focus on OGBV within the national discourse of GBV. Since the launch of the videos, Equals Now has had a media interview on national television to discuss online gender-based violence as a 'new' form of violence against women. They are also about to implement a project on sexual harassment training for small businesses, with a module that focuses on OGBV in particular, for those who use technology and social media to offer services or engage customers. The third was producing accessible content on these topics, for which they designed 10 infographics as part of their project that have been circulated via social media and printed to be shared at their events, within the feminist community and organisations. 
Equals Now has spoken on the importance of collective efforts in order to reduce the levels of GBV in the country.  The onus is both on national stakeholders and individual Gambians to set up measures that include comprehensive sex education in school curriculums, teaching children about internet use, strengthening grassroots feminist and women's rights advocacies and creating cyber harassment policies that trace and report online abuse. By way of extending the work they were doing further, an intergenerational solidarity network of women-led organisations, members of the LGBTQIA+ communities, the diaspora, feminist and women's rights activists was also established in order to unify the voices around the country.
This solidarity network was the most fitting audience for Equal Now's three-day virtual training with a focus on understanding online safety, privacy, digital rights, OGBV, documentation and sustaining campaigns and protest both offline and online. Discussions within this training included laws and policies governing GBV in The Gambia, the loopholes that exist within them and what government needs to do to ensure the laws are actioned. Feminist principles and how the internet is used to perpetuate violence against women was talked through, with lawyer and feminist from Kenya, Nancy Houston talking to members about TOTALSHUTDOWNKE. Collective and self-care was an integral conversation within this training, with psychosocial trauma professional Ngaima Sesay sharing techniques with members. Everyone was also taken through the importance of documentation by feminist writer and communications professional Jama Jack.
Their hope in doing this work is that this project provides stories that inform people on the harmful nature of OGBV. Their long-term goal is that they are able to lobby for policy changes through their Anti-GBV Solidarity Network. This platform works towards making a feminist internet that is safe for Gambian women to express themselves, whether they are activists, politicians, disabled or experience any form of violence online.  
The team encountered violent responses from abusers who were named in their docu-series. On the 30th of September, the 4th episode featuring Khadijah Bokum, a journalist and one of the young women behind the #SurvivingMelville hashtag was shared. In this episode, Kadijah shared the abuse she experienced online and how she was left unsafe and in distress by the violence she faced online and how the government had failed to protect her and the other women she was working with. She faced scrutiny and was misquoted by media outlets and internet users, leaving more room for abuse from the alleged perpetrator, Melville Roberts, a former civil servant and a lawyer in The Gambia, and from his loyalists online. 
Khadijah also shared how she was further victimised by the media company she was working with at the time which did an exclusive story featuring the alleged perpetrator's narrative and asked her to read the news of that story without prior consultations with her by the head of the company. Khadijah shared, 
Imagine, someone that did all of these things to you, someone that raped your friends and harassed you. Your own media house, instead of supporting you during this period, interviewed this person and gave them a platform. And in the heat of the moment, you are asked to read the news and you had to read the story, whether you liked it or not. Trust me, that was the highest form of depression for me.
Following the heat of the video, the head of said media company sent out a tweet apologising for his misconduct and promised to address this within the institution. In his tweet, he said,
@KBokum my daughter, I had no idea the impact my interview had on you. There is a lot I need to unlearn. I apologise to you for the way you must have felt, the hurt and betrayal you are experiencing as a result of my actions. Thank you @equals_now for sharing this. 
While the work they have done within this project is massively difficult, especially when women face the above consequences for simply telling their stories, there have also been a myriad of positive effects resulting from this work. The project received an incredibly positive response from the communities whose stories were represented in the docu-series. Amplifying their work via social media, the organisation garnered a lot of support, especially from young women who shared similar experiences. Their Twitter and Facebook posts for this initiative reached over 30,000 users each week. Some of the comments are below: 
This is an amazing initiative that gives Gambian women the platform to show the world how we are limited and belittled in any profession... It also shows how Brave, gifted and talented we are. Thank you Equals Now
Finally for the opportunity to watch @NNJeng_ tell her story on online abuse. This should never happen! Unfortunately, Gambian media hasn't been very fair to women over the years. Ngoneh, thank you for sharing @equals_now, this is a great production. Well done you guys.
Even with so much work ahead of them, this project has been ground-breaking in The Gambia, deepening knowledge of OGBV within the Gambian community. The organisation began to think of ways they can continue this work via community engagements, sensitising people nationwide and training young women on feminist principles of the internet as well as how to advocate for themselves and other women online.