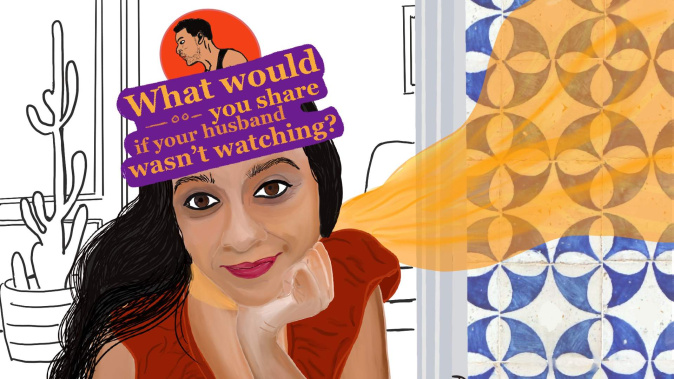 This piece is a part of a series of blogs to share experiences of various projects that came out of the All Women Count-Take Back the Tech! (AWC–TBTT) grants. Love, Sex and Tech was one such project born out of the grant awarded to Indu Harikumar in 2020.

Solidarity is power. Solidarity is also a powerful tool – for resistance, for sharing human connection, for building trust and reclaiming spaces – making them our own.

Human nature is to seek connections and to be heard and seen. We find comfort in knowing we're not alone or that we're not the only ones who're silently going through difficult experiences that, perhaps, we don't have the language to express.

Indu's project (vision is rather fitting) explored human connection but also violence. Sharing the experiences of violence that seed the vocabulary to bring ourselves a little closer to feeling less alone when we're most vulnerable.

Indu would like to call it a "people-powered project". It explored how visuals, stories and technology can provide us the tools to build and grow a safe feminist space for survivors of violence. Ironically, visuals, text and technology have been used to perpetrate violence too as is evident in the stories that were shared during the project.

What could be a better way to resist, reclaim space and counter violence with the same tools that are used to hurt us!

This idea is powerful in that it provides us hope and the courage to move forward rather than retreat when it comes to holding a space of one's own on tech platforms. The project truly imbibes feminist principles and carefully weaves the threads of love, sex and technology to firmly establish that people have agency over their narratives – of intimate partner violence.

Indu Harikumar is known and respected as one of the few activists/'artivists' on Instagram who has created a niche corner of the internet through visual illustrations, sharing anonymous stories of pleasure, politics, desire and feminist approach of listening and caring, all of this using one tech platform.

Project #LoveSexAndTech aimed to engender a safe feminist space for survivors to open up and share their stories, and for them to have control over their own narrative; to showcase these stories such that the listeners understand they are not alone, and build solidarity; and open up a space for respectful and kind dialogue to address issues related to gender-based violence. A small part of the project was the effort to provide legal options and suggestions for non-profits that people can reach out to. The legal options were clearly related to violence online and not offline.

Indu began by putting out a call through her Instagram account - @induviduality - to ask people to share their experiences especially of image-based and gender-based violence/intimate partner violence anonymously which Indu would post on her Instagram feed as illustrations. She received 11 stories but only illustrated 8 of them. Most stories were shared by cis-gendered women but it has been observed time and again that it is not limited to cis-het folks alone (maybe this can be a project on its own!).

One of the DMs she received says –
"For someone who always puts herself through hell for not being more smart about the obvious red flags, it gives a guilty comfort to read that others have gone through it too. And that maybe sometimes, it's not always the bearer's fault. I understand you must be going through a lot yourself, reading and filtering these stories must be tiresome and triggering. Please don't reply to this message if you feel it feels too much of an effort. But thank you so much for doing the work that you do."

As comments, stories and discussions poured in, people started expressing how they are finding comfort in knowing they are not alone. The stories trickled in on their own, a sense of solidarity was felt and people realised that surveillance from their partners is rampant. The most common tools of violence are blackmailing, gaslighting and blame leading the survivors into a spiral of shame and guilt. People shared about the growing use of stalkerware where their microphones and cameras were being controlled.

Indu also made an interesting observation: people didn't look at emotional violence as gender-based violence at all.

However, the start of a kind dialogue also brought forth thoughtful reflections like this-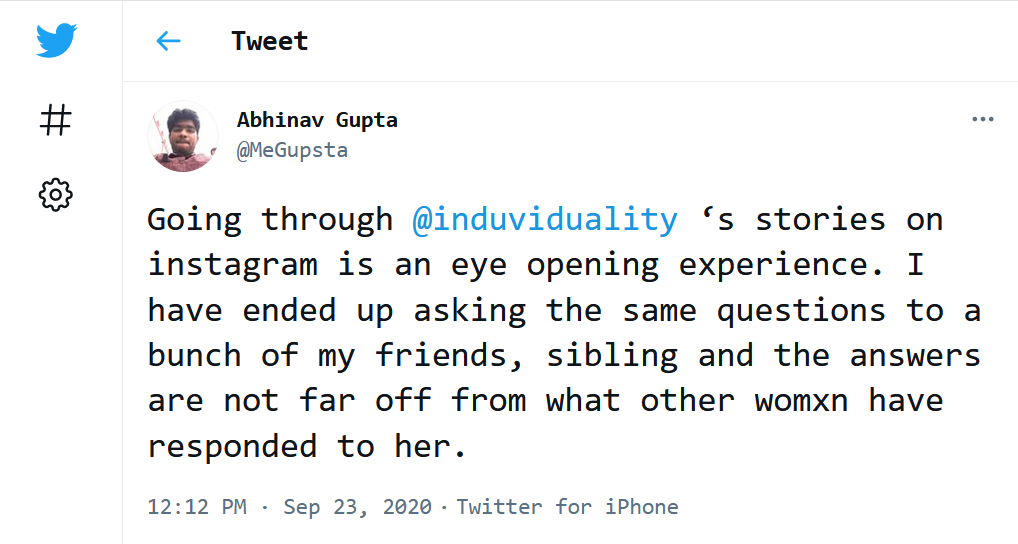 Indu put a lot of effort to ensure that people who were sharing their stories felt safe and heard. It was not easy. She feared if she was asking anything that was triggering to the writers. In some stories, Indu thought it was necessary to probe, asking the writers if they would be okay with further questions, and to only share what they were comfortable with sharing.

She has often opened up about her own experiences of gender-based and intimate partner violence which has encouraged people to feel safe and share their own stories in Indu's Instagram Direct Messages (DMs). Indu also expresses how listening and absorbing such sensitive and sometimes triggering content affects her personally and that the project has been "therapeutic and cathartic".

During the project Indu also realised that tech and especially social media platforms provide gives people a space and tools to navigate conversations in their own way (if we set aside the violence and harassment for a moment). She assumed that following the call, people would perhaps send long stories over email but most people ended up sharing the stories via DMs in brief texts. This points to the fact that technology plays a huge part in how we inhabit and navigate spaces (in fact tech empowers us to do so) on our own terms -something that is constantly threatened and shrunk by gender-based violence online.

Indu feels that the exploration of language plays an important role in how we engage and understand our feelings, leading to action. A common thread emerged from shared stories:  people don't experience violence/transgression in a linear way.  It was essential to have a safe feminist space for survivors to open up and share their stories, and for them to have control over their own narrative.

Indu feels a sense of having made a difference by inching closer to unpacking vocabulary that makes sense of people's intimate lives. For example, when writers stated their partner was "manipulative or controlling" Indu asked them to instead describe what they did. This is how she thought people could develop a vocabulary.

Having done this project, Indu feels it's important to have an updated tech resource for people to refer to so they can check for stalkerware and other spyware apps. She thinks  tech guides are helpful for people to learn how to safeguard themselves through simple steps and tools available on social media platforms, such as blocking someone or privacy settings.
"Trust in self, tech and relationships."