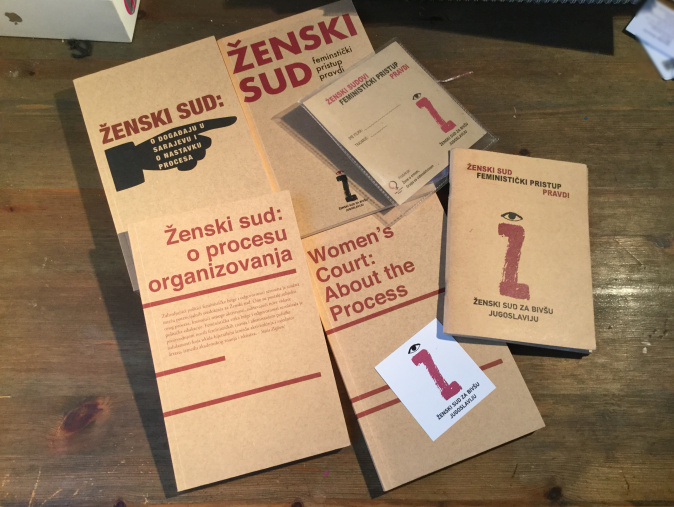 Prvi ženski sud na teritoriji Evrope, održan je u Sarajevu, od 07. do 10. maja 2015. Kroz Ženski sud žene postaju subjekti pravde, podstižu stvaranje drugačije sudske prakse, vrše uticaj na insistucionalni pravni sistem
The first Woman's court on the territory of Europe, was held in Sarajevo from 7th to 10th of May 2015
Inicijativa o ŽS pokrenuta je od strane Žarane Papić, filozofkinje i članice mirovnog pokreta iz Beograda  2000. godine u Sarajevu. Na žalost, 2002. godine Žarana Papić je umrla ... Žene u crnom iz Beograda su nakon smrti S. Miloševića i činjenice da nije kažnjen u Haškom tribunalu, ponovo pokrenule inicijativu o Narodnom ženskom tribunalu za zločine protiv mira, ali je to imalo neformalni karakter. 
Women's Court for the former Yugoslavia, a feminist approach to justice as a space for testifying and for the voices of women, for the autonomy of women, through their active participation in building justice and peace, in order to create new paradigms of justice. 
The initiative for the Women's Court (WC) was launched in 2000 in Sarajevo, by Žarana Papić, philosopher and Belgrade peace movement activist, unfortunately in 2002 Žarana Papić died ... After the death of S. Milosevic and the fact that he died unpunished in the Hague Tribunal, Women in Black from Belgrade again initiated the organization of the People's Women's Court for crimes against peace, but it was informal in its character.