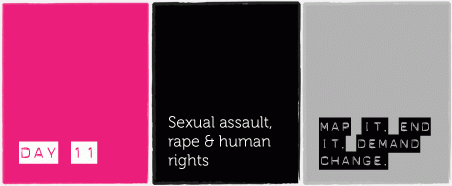 /*-->*/
Rape and sexual assault is one of the most underreported crimes in the world. According to the UN, estimates of reported cases range from only 3% out of all rape cases in South Africa, to 16% of all rape cases in United States. This means that out of 100 women who are raped, up to 97 of them are keeping silent about the violation.
Shame, stigma and trauma are the main reasons that rape goes unreported. Victims are often blamed for somehow "provoking" the violence, subjected to intense interrogation, and repeated violation of their rights by the police, doctors and the judicial systems.
If the accused is someone powerful, popular or famous, the obstacles of reporting become even harder to surmount. She must not only overcome existing barriers to reporting, but also steel herself against further attacks and vilification by his large number of followers. This can be seen by the swift and widespread commentaries and coverage of the two women who made a police report against Wikileaks frontman, Julian Assange, for sexual violation last December. Their online activities also become a source for uncovering their private lives in the effort to discredit them, with their right to privacy further violated.
New information and communication technologies (ICT) are also increasingly impacting on situations of rape and sexual assault. For example, the creation of online groups that promote rape, and the use of mobile phones to record rapes and sexual assault. In other cases, former lovers (or complete strangers) post fake online ads detailing rape fantasies, inviting strangers to come to their homes and rape the victims. The companies providing these listings are not taking responsibility, and seem oblivious to their possible complicity in sexual assault and rape. People – men, women, boys and girls – who may have not participated in a rape continue the cycle of violence by watching, recording, passing on information or creating a culture that contributes to rape.
Take back the tech! We are all responsible for defining the spaces we occupy - both online, offline and political. Reject rape and sexual assault. Make it visible. End the silence. Demand change.
1. MAP IT
Have you experienced a sexual assault or rape where ICT played a role?

Share your story, and break the silence. It may be hard, but telling your story can be a first step towards healing. Know that you are not alone, and there is a community who is listening, who is supportive and who stands behind you.

Stay anonymous, keep safe, and keep secure. You don't have to post your name or any other identifiable information like location or what you do. Only share if you are completely comfortable talking about your story.

If you know of someone who has experienced sexual assault or rape where ICT played a role, tell her about the initiative. And extend your support.

If you would like to map her story, make sure you get express permission before sharing. Be sensitive to the real fears, and to the real pain of reliving the violence.
You can also map stories from the media that you have come across.

To map your story:

Go to the Take Back the Tech! online map

Click on "submit a report"

Write about what happened.

Click on your region and country on the map - to protect your privacy, please do not click on your actual house address or street address. A general location is sufficient.

On more information on how to post your story, click here.
2. LISTEN, SUPPORT & INSPIRE CHANGE
We can end the violence by standing together and working to create a world that is free from rape and sexual assault.

Read the stories, acknowledge the courage and show your support by leaving a comment.

Find out how new technologies can play a role in ending rape and sexual assault, by creating spaces where women can come together to share strategies on surviving rape, find support, legal information and to deal with the complex feelings of shame, outrage and the silence surrounding rape and sexual assault.

Check out inspiring projects and resources that contributes to the effort in ending rape and sexual violence.

Take part in collective actions and communities that work to end rape and sexual assault.

For example:

Pandora's Project provides resources which are sensitive to survivors' needs, regardless of how the rape or sexual assault was perpetrated. There are also some resources for friends and families, and practical tools, such as information cards. http://www.pandorasproject.org/

Hazel Thompson: Survivors is a project from South Africa where rape is at epidemic proportions. It provides an inspiring collection of slides from photojournalist Hazel Thompson, showing how women overcome the stigma and shame surrounding rape. http://www.hazelthompson.com/survivors/

Occupy Patriarchy grew from the refusal for women's sexual rights to be relegated to the backseat in struggles for human rights. It confronts the sexual violence that is taking place at the Occupy Wall Street movements, and calls for collective measures that recognises structural inequality and discrimination, and that protects the safety and security of women and girls.
3. DEMAND ACCOUNTABILITY
Advocate for the recognition and fulfillment of women's human rights in the spaces that we engage with, both online and offline, socially and politically.
Let internet service providers, chatroom administrators and online ads portals know that women are watching, and that they have a responsibility to create a space that protects women's rights.
We don't need laws that censor to protect us. We need to have power over our own bodies – and the representation of our own bodies. If violations occur, we need to be empowered to stop the harm.

Write letters to organisations that are preventing women (or men) from taking control over their image online – whether its in ads or in videos.
Change is possible. End the silence, demand accountability, and claim the power to create a world that is free from violence against women. Take back the tech!