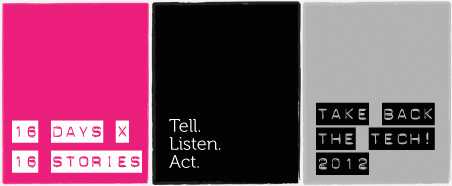 Tuesday, November 20, 2012
The act of storytelling is transformative.
When you tell a story, you are defining the experience. You are naming the actors, narrating the event, framing the values and deciding which details matter. In other words, you are constructing reality.
When you listen to a story, you are allowing your point of view to be shifted, and be immersed into another reality. When you listen actively, you are also moved through more profound understanding.
The world is made up of many, many stories. Some are more loudly told and heard than others, while some are shared in smaller circles. Often, it depends on who is telling the story and how much power they have in the context where it is heard.
If we pay attention to stories that are less easily heard, then we are contributing to changing who has power.
If we make the effort to tell stories that are not familiar, then we are actively participating in shaping what matters.
Take Back the Tech! From 25 Nov to 10 Dec, take part in the 16 days of activism and take control of technology to tell, listen and share transformative stories. Document, inspire, converse and collectively envision the end to violence against women.
16 days x 16 stories
We will be featuring a story every day for 16 days. Each story will present the different ways that internet and mobile technologies affect the lives of women and girls in different parts of the world.
Some are stories by women and girls who have experienced violence online or through the use of digital technologies. Some are stories that subvert ideas of technology, gender roles and harm. Some are stories that imagine a world free from violence against women – with wit, gravity, humour and imagination.
Visit the Take Back the Tech! campaign site throughout the 16 days and listen to each story. Find out more about the very real ways that internet and mobile technologies intersect with violence against women, and be inspired, moved and challenged to take action for change.
This year's campaign is inspired by Take Back the Tech! Pakistan's 16 days of activism campaign in 2011.
Be part of the 16 days story circle and tell your own powerful story of transformation. The stories can be about:
How you have personally experienced, been affected by or took action to challenge violence against women online or through mobile phones.
Creative collation and storytelling based on different cases that you have heard, read or come across.
Interviews with different women on their stories or opinions on why internet and mobile technologies are feminist issues and strategies on online safety.
Fictional and fantastical accounts of alternate realities that challenge how we think about internet and mobile technologies, power, gender relations and/or violence.
Or any other story, actually experienced, inspired or imagined.
Themes
We want to amplify and share stories that surface the different ways that violence against women, feminism and internet and mobile technologies intersect. Below are some thematic ideas to begin with:
Online harassment and cyberstalking
Trolling and online sexism
"Love", violence and internet technologies
Privacy in a public digital space
Sexuality online
Girls and internet technologies
Feminism, activism and online threats and possibilities
Culture, gender roles and internet technologies
Strategies to be safe online
And other thematic areas that you think are important in relation to this issue.
Story formats
Format and styles can be as diverse as Take Back the Tech! campaigners who come from different parts of the world. For example:
Videos (digital stories, interviews, mash-ups, recordings of live events, music video, webcam diaries, claymation etc) – most online videos are less than 3 minutes because of bandwidth and online viewing dynamics.
Audio clips (storytelling, drama, songs, podcasts etc)
Captioned photos, comic strips or collages
Performance theatre, comedy, scripts
Retellings of folklore and mythology or science fiction
Poetry, haiku, blog posts
Embroidery…wherever your creativity moves you.
They can be in first or third person, in the language you are comfortable in, or use no language at all.
Note on privacy
Check if your content/story reveals personal information about yourself or others that you don't want to share.
This includes recognisable pictures or information about location, identity, age, occupation etc.
Check "Be safe" section on what you can do to address some of these issues.
Share your story
You can share your story as part of this campaign in several ways:
Email us at: ideas AT takebackthetech DOT net
Create an account on the site to upload your story directly. If your story is in written form, you can publish it as a blog post on the site.
If your story is in different media formats - e.g. video, audio, photographs, images etc, you can find out how to upload content here.
Or if you have posted it in your own online spaces (blog, tumbler etc), then let us know by sending us a link on Twitter, or post it up on our campaign Facebook page.
Visit the campaign site every day throughout the 16 days to listen to the stories.
Find out more about the very real and different ways that internet and mobile technologies affect the lives of women and girls in different parts of the world, and how gender-based violence is a significant aspect of this reality.
Build your knowledge and deepen your understanding about the issue.
Respond
Let the storyteller know how the story moved you by leaving a comment.
Participate in our Twitter #16stories conversation.
Grow the story circle and respond with your own story. Follow the story guide above to tell your story.
Share resources about the issue that the story surfaces.
Build knowledge and share your ideas, thoughts and strategies on how to deal with situations of violence against women online.
Listen actively.
If you have experienced violence against women online, or know of someone who has, or have come across news reports about such incidents, document it on the Take Back the Tech! online map.
The Take Back The Tech! map on technology-related violence is in several languages including Arabic, Urdu, French, Spanish, Bosnian and others.
In addition, Take Back The Tech! campaigners in Bosnia-Herzegovina, Colombia, Democratic Republic of Congo, Kenya, Mexico, Pakistan and the Philippines are coordinating country-specific maps, which will be aggregated to the global Take Back the Tech! map.
The reports will be used for advocacy efforts and to inform capacity building strategies on online safety. We will be bringing your stories, experiences and concerns to the UN meeting in 2013 on women's rights that will be focussing on violence against women, to include technology-related violence against women in the discussion.
To map:
Click on "submit a report"
Reports can be your own personal experience, or with permission from them, the experience of others.
Reports can also be from the news.
To find out more about how to map, go to: "how to report"
Help us build a body of knowledge and document the experiences of violence that women and girls face online and through the use of internet and mobile technologies.
Collectively, we can make the invisible visible and demand for recognition and change. 
Stories can change the world. Take control of technology and share your story!