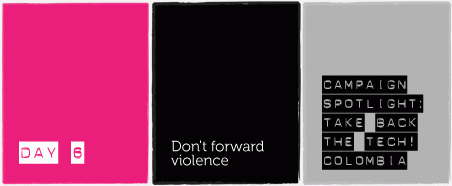 Ending violence against women and girls is everyone's responsibility.  In the first of five videos shared from Take Back the Tech! campaigners in Colombia, the role that men and boys can play to stop the violence is clear.  It addresses the recurring problem of privacy violations which are emerging in mapping of tech-related violence everywhere.  Women entrust and share intimate photos with partners who then violate that trust by disseminating the images broadly, a violation which is further compounded by third-party sharing.
Each act of viewing and forwarding ensures that the violence continues and is even replicated. It helps to increase the normalization of violence against women.
In Colombia, Take Back the Tech! organiser Colnodo brought university students together to discuss tech-related violence and strategies to end it. The students wrote and created the videos, in this one placing men's and boy's responsibility and respect for privacy, and a new definition of masculinity, in the very center of the solution.
In the video, the youth is asked to stop and think about what he is doing.  His violence against women is being called out. Today let´s take Colnodo's example, share this video and talk about tech-related violence with the men and boys - and women and girls - in our lives. Let´s name violence against women for what it is - and stop and think about solutions instead of viewing and forwarding violence.
----------
Colnodo is a Colombian association opening up the web for gender and sustainable development. Working in an environment where freedom of expression barely exists, they help to open up spaces for community collaboration and sharing. This is done through developing platforms for e-learning, running an internet radio station for community broadcasters and conducting research into policy and empowering local communities.
One highlight of this year's Take Back the Tech! in Colombia is the production of a commemorative play. Not to be confined to paying theatre audiences, this will be held outside, in a park, and represent the struggles of women against violence online. Alongside this, Colnodo will be producing videos, radio spots and funky TBTT materials to help publicise the movement.
Visit the Colnodo campaign profile.