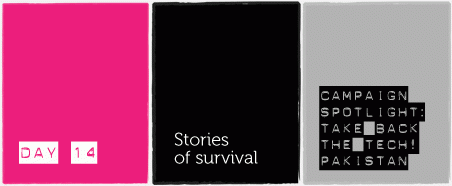 "'She's begging to be raped.' That's the response that many feminists in Pakistan get online from Pakistani men seeking to shut them up. This is a response from Pakistani men to women merely tweeting about issues related to sexualised violence.
My own 'mentions' tab on Twitter is generally flooded with unoriginal misogynist, heteronormative responses, ranging all the way from claims that I'm a feminist because I'm 'too ugly to land a man' to claims that I'm actually a 'confused lesbian', all the way to threats of 'corrective rape' because I choose to tweet -- just tweet -- about issues such as childhood sexual abuse, sexual harassment, and other forms of sexualised violence. I've received vile, detailed messages from random strangers who decide to tell me my home address and then live out their rape fantasies online by telling me in graphic detail which parts of my body they would like to do things to…."
- Continue reading Urooj's story: "She's begging to be raped – Twitterverse for Feminists in Pakistan!"
Urooj's story is part of the 16 days x 16 stories Take Back the Tech! campaign organised by Bytes for All (B4A) in Pakistan. Throughout the campaign period, B4A is featuring powerful stories of survival by women and girls who experienced, resisted and challenged violence against women in their lives.
Bytes for All, Pakistan (B4A) is a human rights organization focused on ICTs for development, democracy and social justice. An active Take Back the Tech! campaigner for many years, B4A now counts Take Back the Tech! as one of its flagship programs and is taking an active role in spreading the campaign to other countries. B4A is supporting Take Back the Tech! Afghanistan and representatives B4A will accompany APC in Dhaka in December to launch Take Back the Tech! Bangladesh. ??Each year during Take Back the Tech!, B4A conducts a variety of activities focused on the strategic use of ICTs by women and girls to fight violence against women. In connection with Take Back the Tech!, B4A also kicked off a new campaign, 'Access is My Right' which examines different issues around communications access and bans in Pakistan. A series of 'Access is My Right' visuals done by local artists has appeared on B4A's website and Facebook page, where they are sparking lots of discussion about civil liberties, online censorship and communications access.
This year, B4A has curated a collection of 16 stories appearing each day on its website, www.takebackthetech.pk. Continue reading the stories. Offer your solidarity, thoughts of support, or share your own experience and strategy of how to deal with violence faced. Blog about what it means to resist similar types of violence in your context. Or map it!
"I was 13 when I was molested by my uncle. He was a doctor. That was the last time I complained of any sickness to my parents. I was 22 when I went on my first internship at a foreign bank in Karachi. My first work experience in the corporate world was of a pervert boss who would pass sexual remarks at me in front of the entire floor. He did get some giggles. Until I graduated I had become stronger to deal with such situations. I had developed the gait, mannerism, attitude and strong performance that intimidated people enough not to do anything that shows gender bias, at least in front of me. Today, I am a 33 year-old single mother, a bold photographer with feministic tendencies, wiser and calmer. And yet, I have experienced a terrible harassment incident at the workplace."
- Continue reading Soofia's story: "From Perverts to Peers"
"The easiest and most common tactic to win a discussion with a woman activist over the Internet is to tell her to 'Make me a sammich'," says Sidra, an activist for women's rights in Pakistan. Implying that a woman's "place is in the kitchen" is perhaps the most over-used tactic meant to discourage and embarrass women human rights activists into submitting. [...]"Almost every time I talk about taboo issues on Facebook, Twitter or my blog, I receive hundreds of hate comments. Most of these involve calling me an atheist, an evil woman and an agent of the West. Most of them tell me I don't know what I'm talking about and should 'go back to the kitchen'" she laughs. "I've learned to take these in stride over the years."
- Continue reading Sidra's story: "Go Make Me a Sammich! New Tools Old Tactics"
"Farzana was checking her Facebook, as usual, from the school's computer lab and noticed she had a friend request from one of her female colleagues, Daniya Habib. She accepted the request and went on to check out her friend's profile. A few moments later, she ran off to find Daniya. Daniya's profile contained embarrassing fictitious information about her private life, intimate pictures of her with her husband and a number of other fictitious details that cast doubt on her character…."
- Continue reading Farzana & Daniya's story: "Harassed online and nowhere to go"