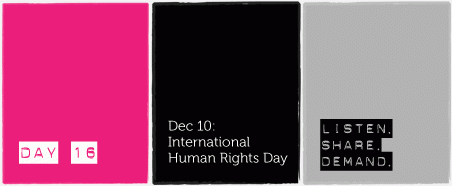 Today we celebrate and reaffirm our shared values and principles on Human Rights Day. Throughout the 16 days campaign, Take Back the Tech! has featured the voices and experiences of women and girls in different parts of the world on how the internet has become a key site for the exercise of their fundamental rights and freedoms - from expression, to information, to education, to family life, to health, to employment to full participation in public, cultural and political life and more.
The campaign has also highlighted the stories of how violence targeted at women and girls on the internet and through the use of mobile technologies significantly affect their ability to fully exercise their fundamental human rights – both online and in physical spaces.
Next year marks the second decade when the United Nations recognized violence against women as a violation of fundamental human rights. The theme for the 2013 Commission on the Status of Women – where governments, civil society and other stakeholders come together to discuss and report on the status of women and girls in their countries – is focused on the elimination of violence and prevention of all forms of violence against women and girls. Make sure that technology-related violence is part of the debate!
The growing testimonies shared throughout this campaign and on the Take Back the Tech! map show that online harassment, sexist trolling, threats of sexual violence on blogs and mobile phones, cyberstalking and other forms of gender-based violence are increasingly being faced by women and girls online. These forms of violence against women need to be recognized, so that we can demand a collective commitment to end it. This includes adequate redress for justice. As well as measures that promote the development of an online environment and technologies that centres women's fundamental human rights.
Join us. Take Back the Tech on Human Rights Day!
1) Tell
Grow the testimonies with your experiences and stories.
Help us build a body of evidence to bring to the CSW next year as part of the advocacy to recognise and address technology-related violence against women.
Document your story on the campaign map, or support your friends to share theirs.
Or report cases from news reports that you have come across.
Make a commitment to do this regularly until International Women's Day on March 8th next year!
2) Listen
Read and listen again to the stories shared throughout the campaign.
Apart from the 16 days x 16 stories featured, we have also called for and received stories shared by other campaigners.
We have collated as much as we know of below.
Listen to the stories. Read them and deepen your understanding on how internet and mobile technology impacts on violence against women.
3) Act
Sign the petition to decriminalize sex work! We will be submitting this to the UN Special Rapporteur on violence against women, Rashida Manjoo, and the UN Special Rapporteur on health, Anand Grover, in January. Help us reach at least 1000 signatures.
Share the stories: continue to grow the testimonies, knowledge and experience. Tweet them, or post them on your social networking spaces, or share them as a story in a letter.
Grow your skills: Learn about how technology works, the risks they present, and some strategies you can take to be safer. Start from the TBTT "Be safe" section, and share your own strategies on our Facebook page.
Celebrate Human Rights Day with stories that matter. Take Back the Tech!
 
[View the story "Take Back the Tech! 16 stories x 16 days" on Storify]