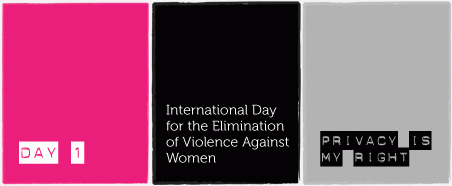 Monday, November 25, 2013
Today marks the start of the 16 Days of a Activism against Gender-based violence. Every year, we make a global commitment on 25th November - the International Day for the Elimination of Violence against Women - to strengthen our collective efforts to end violence against women everywhere in the world.
Take Back the Tech! kick starts our campaign by calling for a recognition to our right to privacy - and exploring the critical role that privacy plays in ending violence against women.
Surveillance is becoming the norm, as governments insist that giving up privacy is necessary for safety. Women all over the world are monitored by husbands, partners and parents for our own protection, but this "protection" prevents us from making our own decisions. It also allows abusers to find and control us.
Let's flip the conversation. Privacy is essential for women's safety. It allows us to access information, make choices about our lives and express ourselves without fear of punishment. Women who face violence require privacy to find safety from abusers and to heal from trauma.
Digital tools used to violate our privacy can be the same tools we use to take it back. Use social media to demand your right to privacy and tell us why privacy is important for your safety and autonomy. Encourage your networks, family and friends to take part in the conversation.
TAKE ACTION
TWEET A REVOLUTION
Why is privacy important to you? How do you think the right to privacy can defend our capacity to be safe and free from violence?
Using the hashtag #privacyismyright, tell the world why privacy is important to you and why you want it back. Post your demands!
Follow @takebackthetech on twitter, and don't forget to also use the #takebackthetech hashtag.
CHAT ON CRYPTOCAT
Join the #privacyismyright chat party on Cryptocat!
If you don't use Twitter, or even if you do, have your say on Cryptocat. This free and open source software helps you chat more securely. Be sure to read the warnings on the site.
Once you've downloaded it, click on the paw print at the top of your browser and enter the conversation name "privacyismyright" to join our chat. Make sure you don't use your real name; that's part of being private.
Join us at these times: 3 am - 5 am UTC and 4 pm - 6 pm UTC.
Demand your right to privacy! Tell the world what you want. Get people talking.