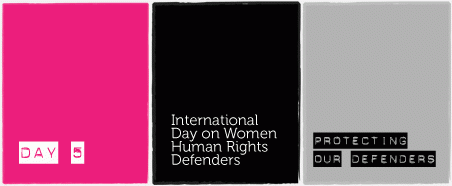 Today marks the
International Day on Women Human Rights Defenders
, celebrated every year on 29 November in recognition of the activism, advocacy and courageous acts of resistance by WHRDs all over the world. This year, despite numerous challenges and resistence, UN adopted a
landmark resolution on WHRDs.
This is an important commitment by states to take all necessary steps to protect and support WHRDs, who face specific violations and threats that they face because of the work that they do and their gender.  
Just after the
Latin American and Caribbean Women's Health Network
launched their campaign for the Global Day of Action for Access to Safe and Legal Abortion, their website was hacked and disabled. This is not uncommon, as women human rights defenders (WHRDs) regularly face physical and digital attacks. A 2013
survey
revealed half of WHRD have received violent or threatening messages, and 27% discontinued their online work as a result. Yet nearly 100% said the internet is important for their activism.
People who are against women's rights attack our communication channels to silence us. A lot of women's organisations and feminist activists are vulnerable to these attacks because we're busy saving lives and changing violent, misogynistic culture instead of thinking about digital safety. Although WHRDs often have security plans for physical safety, this usually does not extend to the digital spaces of our activism. We're not questioning who is hosting our sites, how much information we've traded about ourselves for access to sites, what security checks we need or how we're compromising our safety and that of our allies & networks. Digital security is now integral to the work of WHRDs.
A lot of us are dropping our websites and moving everything to Facebook because it's less expensive, easier to manage and reaches more people. But do we know how Facebook's policies and insecurities can affect our information? Do we have valuable data backed up in at least two places? And what about
Twitter flaming
, where attacks come from everywhere and lead women activists to shut down their accounts?
How can we defend and keep our digital spaces safe? Get geeky, explore resources, share what you know and take back the tech!
TAKE ACTION
BUILD KNOWLEDGE
The good news is that many WHRD organisations are making changes and creating resources. Check out these sites to see what you can do to make your work safer: 
SHARE STRATEGIES
Explore resources with others. Get together with a few women's rights activists and spend the afternoon learning about how to improve the safety of your communication channels. 
If you're more comfortable with technology, offer to hold regular informal workshops on digital security with your local women's rights organisation - and use this as a way to improve your knowledge!
Brainstorm strategies and ideas on how to improve digital security for WHRDs. Come up with 10 best practices and share them with us. Tweet
@takebackthetech
, comment on this page or write to
ideas@takebackthetech.net
.
Stay safe! Protect your communication channels. Defend our right to be defenders.