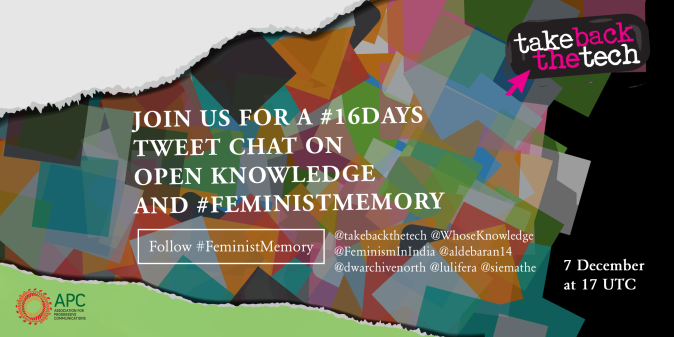 Written by Anasuya Sengupta and Siko Bouterse of Whose Knowledge? and Sara Baker of APC
The internet has given us new ways of sharing information, building knowledge and shaping narratives. We can bypass traditional gatekeepers of information and expression in order to learn from each other, share our stories in the ways we choose and amplify voices that have been ignored or silenced. These are all critical aspects of feminist movement building, especially around gender-based violence. But how do we infuse the process of knowledge building with feminist politics? Who owns knowledge and what does it mean to be open?
Let's use the internet to document abuses, yes, but let's also build our shared memory banks of lessons, strategies and achievements. Honoring pioneers and risk-takers in ways that make these memories accessible and with room to add means we invite everyone to share in this knowledge. 
Let's use the internet to take control of the narratives about us and transform people's views. Rather than speaking for others, let's support others to build their capacity to document their own knowledge, and be allies in amplifying marginalized voices. Openness, diversity, and inclusion make our movements more resilient.
Let's use free/libre and open source software (FLOSS) where we can. FLOSS is based on democratic principles that we feminists believe in. Let's invest in free and feminist infrastructure that prioritises creativity, community, collaboration and shared knowledge. And let's balance openness with safety, making space for mutual care as we prevent others from making money from our knowledge, our experiences, our trauma, our strategies and our movement.
Take action!
Whose Knowledge? is a global campaign working with marginalised communities to build and share their knowledge online. Feminism in India is an award-winning digital intersectional feminist platform. Rohini Lakshané is a technologist, Wikimedian and a public policy researcher in India. Digital Women's Archive North is a feminist arts and heritage organisation based in the UK. Lulú Barrera is a feminist activist in Mexico and founder of Luchadoras. Silethemba Mathe is a women's rights activist and a digital security trainer in Zimbabwe.