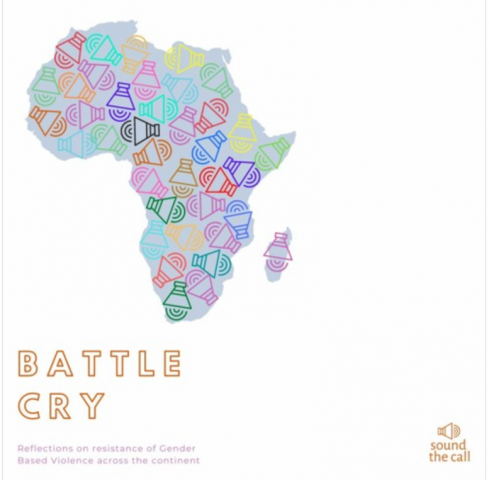 Image via Sound The Call: Battle Cry
 
Sound the call and this time, it's a Battle Cry! In this voice note series, we share stories of gender-based resistance throughout the continent. In this ten-episode series, our voices will highlight stories of pain, healing, injustice, and our determination to change a system created to oppress us based on our gender and sexual identity.
This is the introduction to Sound the call: Battle Cry. It is a project by Backyard Pitch that ran across Africa. The project lead on this was Sarah Summers.
I believe personal and community development encourages strong leadership. Intersectional racial equity will be built by the will of the people. As a filmmaker, I use my skills in media to create content that is challenging, entertaining and educational.
The objectives of the project were to produce a voice note series, which would be a reusable model for future audio series. They managed to achieve the tools to build a model for re-creation and they intend to still test it. They also wanted to spread a feminist voice network across Africa. While they had hoped to achieve an even wider reach, the audio series did wind its way across the continent.
Through the project they were able to access resources that improved their episode topic list. The topics incorporated feminist ideas and principles of peace journalism. They learned about engaging with stories with a harm reduction strategy to keep their participants comfortable and safe and also had trigger warnings at the beginning of episodes that could be triggering. The research that they conducted showed that there is a need for personal testimonies for people who are working with gender-based violence across Africa. Some of the topics covered by the series are: 'The expression of gender and sexuality, 'What is gender-based violence', 'Exploring the reasons why people get into gender-based resistance work', 'How do religion, spirituality, and faith intersect or doesn't intersect with gender-based resistance' and 'Discussing dreams for a world free of gender-based violence and the many challenges that stand in the way of this'. 
The candidates were sourced through social media and securing the content for the episodes was a large part of their programme work, having received over 100 voice notes and hours of content that needed to be sorted and processed. The final activity was collating, editing, and disseminating the episodes through the network. they found that editing was intense and that it needed its own dedicated time outside of the administration that also had to be done because the deadlines were tight and the work was creative and emotional. 
They had ten contributors from all over Africa, 8 women, 1 man, and 1 non-binary person. They managed to achieve a programme that gave a voice to Africa's gender revolution. The voice note series is meant to reach a minimum of 200 people in broader Africa. Also, 2 of their contributors have reached out to them and would like to start sharing resources and building networks for LGBTI services in their local countries. This experience has allowed them to be more confident in the values that guide their work and future endeavours. They have used the concept for Battle Cry to start a new series called "View from the Watch Tower", which covers women and identity in Soweto in 2021. 
Participating in the AWC-TBTT Grant allowed them to broaden the scope of their work to the rest of Africa and this has presented them with new questions around African identity and queerness. It has also allowed them to recognize that they have audiences in the rest of Africa and not just in South Africa. They believe that this will impact the way that they source participants in the future. Their project was also relevant to the grant because not only did they share stories of violence that women endure but they also shared stories of healing that could serve as a guide for people experiencing gender-based violence to help them navigate the spaces they are in. They created a safe space for women to speak their truth and a safe audience to present that truth to, they subverted power structures by using pre-existing intimate networks that allowed for private listening. WhatsApp was the chosen vehicle for the voice note network, because it is accessible, does not use as much data and it has a large user base in Africa.
As with all projects, Backyard Pitch had some challenges with their project. Participant management was challenging, coordinating payments with people from different countries was very difficult and the series was also emotionally exhausting and they found that at some point the team could not hold all of it. 
They are proud of the way that they sourced their participants. They used tech and online services to research organisations and groups that would speak to their subjects. They received 28 applications from across the continent and many of them were great for their voice note series. The selection was challenging and although they wish they could have taken everyone, they had not anticipated how emotionally charged the process would be. 
We are extremely proud of our 8 episodes which was a labour of love and sacrifice on the parts of everyone involved. Each episode is honest and real and exhausted our resources.
They feel that other organisations could replicate and adapt their concept and they would also be happy to continue to use this model for future series. They note that many resources are freely accessible if you have data, but that the challenging part would be the creation of organic networks, something that took them years to build.
They highlight the fact that the most significant change that has occurred for them in Sound the Call is that they are now an international project with international networks across Africa. 
When asked to envision a world free of gender-based violence, one of their contributors says: 
I envision a world, a safe world where I can dress however I want to dress. I can go out and walk the streets at whatever time I feel like doing that. I envision a world where I can freely claim my nationality and not have to keep it hidden like a dirty secret. Each single part of me is associated with different consequences, I am the one who has to face them. So it's really impossible for me to decide that I am simply a woman, or I am simply Zimbabwean or I am simply black.