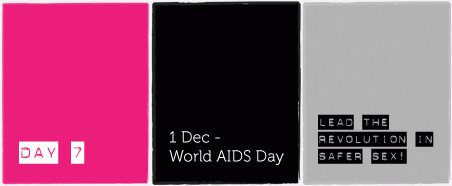 Thursday, December 1, 2011
Today marks World AIDS Day. There are approximately 30 million people living with HIV/AIDS across the world today, with women making up slightly less than 52% of all infected persons. The number of new infections is still high and demands serious attention, with 40% of all new adult infections in 2009 being made up of young people (15+).
The good news is, the overall number of new HIV infections have been steadily declining in most countries, and there are fewer AIDS-related deaths due to increased availability and accessibility of antiretroviral therapy in recent years. Monitoring and analysis efforts by UNAIDS show that young people are leading the revolution in HIV prevention, through safer sex practices and young pregnant women attending antenatal clinics.
However, the issue of unprotected sex is still a leading concern in the sexual transmission of HIV. Gender discrimination and violation of women's rights make women and girls especially at risk for numerous reasons. This includes the idea that men have control over women's lives and bodies, leaving them with less power to negotiate on when or how to engage in sexual relations and on the use of male or female condoms and safer sex practices. This is evident through the kind of attacks and harassment that women face when they openly speak up and express their sexual autonomy, or how quickly girls are blamed for provoking sexual violence for the way they dress or carry themselves. If a girl or woman carries a condom with her, chances are, she will be labelled as being sexually promiscuous instead of aware, empowered and in control of her own sexual body.
The subject of sex and sexuality is often subjected to legal and cultural restrictions. In many parts of the world, comprehensive sex education is not available or prohibited in fear that this will result in the promotion of sexual relations amongst young people. Public awareness booklets on safer sex have been banned for being seen as "obscene", and the word "condom" is prohibited from being broadcasted on public radio and television in some countries. Even on the internet, the topic of sex and sexuality are increasingly used to justify censorship and content regulation, with many websites on sexual rights - especially those related to lesbian, gay, queer and transgender rights - being blocked under anti-pornography or obscenity laws.
Lead the revolution in HIV prevention. Take charge, find out and educate. Exercise your rights to sexual autonomy and self-determination. Safer sex is not obscene!
1. KNOW MORE
Find out more about the issue of HIV/AIDS, its risks and ways of prevention.
Learn about safer sex as one of the key ways to prevent HIV transmission and options that are available to you.
2. QUESTION PREJUDICE
Question your own ideas about gender and sexuality, and see how they can either act as barriers or support to HIV prevention.
This includes ideas about the role of men and women in sex and sexuality, sex work and same sex relationships.
3. MAKE IT PUBLIC - FLASH MOB
Dismantle the shame and stigma surrounding safer sex.
Organise a flash mob with your friends and network and make the issue public.
Arrange to meet in a public space - this can be at a bus stop, in your local market, at the mall, by the sidewalk, in front of the local library, or even at a gathering among friends.
4. EDUCATE - SHOW & TELL
Hold a spontaneous safer sex education session at the space.
Print out the UNAIDS Fact sheet on HIV prevention and pass it out.
Create a small placard that says - "1 Dec - World AIDS Day - Safer sex is not obscene. Educate ourselves & stop the global pandemic!"
Put the placard on the floor, or have someone carry it as you carry out your flash mob on safer sex.
Bring some male and female condoms, dental dams, lubricants or other safer sex materials.
Do a demonstration by showing how to put them on correctly onto inanimate objects like a small water bottle, a doll, a shoe, or anything ordinary that can dispel the idea that condoms are somehow shameful and obscene.
Have a conversation on the issue of HIV/AIDS with the people present and get them engaged and committed to the issue.
Note: Be aware of safety as you organise your flash mob. Plan for any potential risks, and identify spaces to hold it where you are able to strategise and carry it out safely. If a public space is unsafe for you, do it somewhere more private, like organise a safer sex dinner party among friends.
5. DOCUMENT & SHARE
Take a video of your flash mob on safer sex with your mobile phone. And snap a picture of your demonstration!
Share it with other campaigners and keep the conversation going.
Post it on the TBTT Facebook page, or tweet us @takebackthetech.
Or create an account and upload it to the site.
Take back the tech! Take control of your body, your rights and lead the revolution in ending the global pandemic of HIV/AIDS.