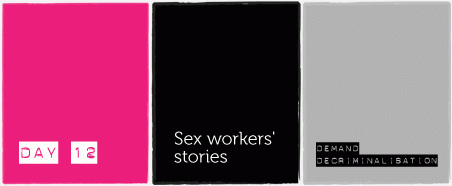 "That was when I started to be a sex worker. But my kids never die with hunger, because I was providing them with enough food, clothing, schooling [...] Sex workers have the same rights as everyone else"
Listen to the story of Muchaneta, as she speaks about her journey, experience and claim for her fundamental human rights
"Sex workers have been saying for years: 'Decriminalisation is the best form of regulation for sex workers" (1)
There are many stories from sex workers around the globe of horrific violations and humiliation not only from clients but from the police and authorities who should be upholding sex workers human rights. Migrant sex workers are often the most vulnerable to harassment and exploitation.
Because sex work is criminalised, sex workers are denied access to their fundamental human rights including critical services such as access to health care. Police abuse and harassment of sex workers is common, including rape by police officers. There  frequently is no recourse to justice if sex workers report police abuse or sexual violations. Violence from the state occurs through policies and practice criminalising sex work and turning a blind eye to a range of human rights abuses.
Organisations such as the Dubar Mahila Samanwaya Committee in India, SWEAT in South Africa, the Red Umbrella Project in the United Kingdom with the "Protect, Don't Prosecute" campaign, the Scarlet Alliance in Australia, and Stella in Canada are organising sex workers to speak, act and advocate for access to human rights and a stop to the abuse.
We demand that rights of sex worker - which include, among others, the right to privacy and the right to life, liberty and security  - be recognised as human rights. We call to decriminalise sex work as a way of ensuring better access to rights. Decriminalisation means that police can't arbitrarily regulate sex work, criminal laws will be removed and sex work would be regulated like any other business. Sex workers would have recourse through law and their human rights would be respected.
Take action
Sign the petition to decriminalize sex work, to be presented at the United Nations by the Connect your rights! initiative of the Association for Progressive Communications. Read the cases of violations of sex workers' internet rights.
Read about the history of the Red Umbrella Campaign. Follow @RedUmbrellaProj on Twitter and help amplify the voices of people in the sex trades through media, storytelling, & advocacy.
Find the Twitter handle of your government representatives and tweet them with messages asserting sex worker rights. You can use the examples below. Remember to use #takebackthetech and #16stories hashtags.
no more violence towards sex workers from the state
stop police harassment of sex workers
sex work is work
decriminalise sex work
sex workers have rights like everyone else
protect migrant sex workers from exploitation & abuse
Share your story on the Take Back the Tech! site. Map incidents of violence towards technology-mediated violations of sex workers on the Take Back the Tech! map.
Take back the tech! Help decriminalise sex work.