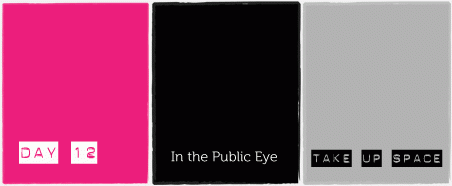 The
Global Media Monitoring Project
found that only 24% of people in the news are female, 46% of stories reinforce gender stereotypes and only 36% of news stories on the internet are reported by women. Even though women blog more, blogging in certain fields, such as
international relations
,
politics
and
science
, is dominated by men. In general, women tend to be
represented online
as decorative or traditional, which means that we are either sexualised or subservient. 
When women are invisible as leaders, change agents and full participants in society, it's easier to to silence us and our realities. This dehumanisation leads to violence. Just like in the physical world, digital violence can make us want to disappear, but retreating from public space doesn't necessarily make us safer.  
Whenever we aren't visible in the public sphere, our needs and interests are diminished. When we are only visible as objects, our agency is not recognised and respected. Let's change the narrative and adjust the picture.
TAKE ACTION
PUT YOURSELF IN THE PICTURE
Show the world a day in the life of a woman on the internet. Make a photo story of what it's like for you to be in digital spaces. You could include screenshots of what you see and do and/or images of yourself working at your computer or other device. 
Are you at a coffee shop? Do you have a dozen windows open at once? Do you face down trolls or ignore them? Do you travel from phone to iPad to laptop and back? Show us what's integral to your online process. Choose what you would like to show and what you would like to keep private.
Upload your story
here
or on you favorite photo-sharing site with
#takebackthetech
.
SHARE RESOURCES
Know of a great online space--website, blog, network, platform, etc.--created by women or girls? Share it on your social media with #takebackthetech and in the comments section of this page. Get the word out about the diversity of women online.
Take control of how women are represented. Take back the tech! And take up space!