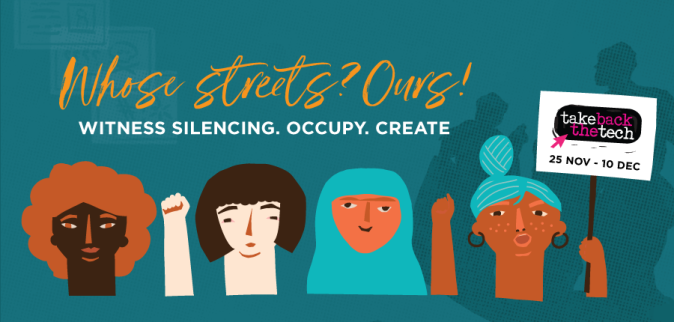 Take Back the Tech! is a campaign that reclaims the internet and women's often ignored herstory with technology, exploring and encouraging the creative use of digital technologies to denounce and eliminate online gender-based violence (GBV). Its name echoes back to the Take Back the Night marches all over the world, where women reclaimed public streets as their own, especially at night when they were told to stay inside because it wasn't safe. Today, the streets of the internet are increasingly inseparable from the streets of our lives and our communities. The offline and online are fused together, just as online GBV is an integral part of the structural GBV we know so well – but at hyper speed and digitised.

Whether it is on the street, in our workplaces or on the internet, our right to be there is always questioned or we are made to feel uncomfortable, that we do not belong. Unless, of course, we follow the rules, only venture out in daylight and to certain places, avoid miniskirts and getting loud. From sexist remarks, unsolicited dick pics, or death threats – GBV attempts to silence us, push us out and make us unsafe in order to have an excuse to protect and control us. And yet, we dance in the streets. We have each others' backs. We occupy all of these spaces with fun and furious creativity.

Witness Silencing

This year, Take Back the Tech! calls out all those attempts to silence us, block off our public streets and our right to assembly on the internet, charge us with defamation when we call out our attackers, close our accounts or take down our posts because they mysteriously don't fit community standards. We want to bear witness to the silencing the world casts against women and people of diverse genders and sexualities.

Our #WitnessSilencing action will take in-depth looks at the different ways we are silenced, sharing examples, tools and strategies to witness and resist censorship, DDoS attacks, take-downs and more. These are important mechanisms to understand, especially in times of increasing social protest and repression worldwide. Keep an eye on @takebackthetech on Twitter for conversations throughout the 16 days with noisy folk well-versed in countering silencing!

Occupy

We also call to occupy the streets we all walk through, in the digital and in the offline landscape of our villages, neighbourhoods, towns and cities. We call to create and co-create spaces of happiness, memory and recognition, learning and sharing: spaces of pride for who we are and the way we are, the way we speak and talk back.

The reality, however, is that we do have to reflect about the way we occupy the internet, and how we can be stronger in solidarity and when we campaign. That's why we started this campaign period with a TBTT Feminist Learning Circle "Assessing Risk in Campaigns: Claim safer spaces".. We'll be sharing and discussing resources for you to reflect on how you want to get involved in campaigns, as well as things to keep in mind if your group is planning one. How can your collective stay safe and how can you make sure that those who are in solidarity with you are not put at risk as a result?

Create

Take Back the Tech! would not be complete without fun tech play. We invite you to participate in our Feminist Forwards brainstorms in English and Spanish the first week of December, to collaboratively dream about the messages we'd like to receive and send in times of protest or celebration. What sentiments would you like to see pop up on your message feed to fire your commitment? What would you say to a friend in need? Or that perfect comeback you thought of after the fact? If you want to put your feminist messages to work on images and gifs but don't know how, we've got your back. Different campaigners are holding online and on-site content creation trainings using a variety of tools, including our first French Feminist Learning Circle. Not good at memes or have no time to play? No problem! Our messaging will fuel a pool of feminist designers and illustrators from different corners of the world to inspire imagery and gifs that we can connect with, share and transform. #FeministForwards.

Take Back the Tech! invites you to join us on the streets of the internet and to each and every street where we are, because these streets, all streets, are our streets. #TBTT2019

Whose streets? Our streets! Witness Silencing. Occupy. Create.